Zone Sponsors: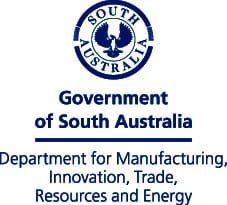 Welcome back to the Department for Manufacturing, Innovation, Trade, Resources and Energy (DMITRE) (SA) as a Zone Sponsor for the Nitrogen Zone in our August 2013 event.
DMITRE is the South Australian Government's economic development agency focused on enabling sustainable development of South Australia's energy and mineral resources, driving the transition to a high value manufacturing sector, building local value chains, and attracting and targeting business investment and international engagement.
The Nitrogen Zone is our general zone of scientists from a great mix of scientific backgrounds. Sponsorship of the Nitrogen Zone showcases the variety of science-based skills and knowledge at the forefront of innovation.
Scientist Sponsors:
We are excited to welcome the Waite Research Institute as a Scientist Sponsor of David Jeffery in our Nitrogen Zone.
The Waite Research Institute (WRI) brings together researchers from a range of disciplines including plant biology, genetics, oenology and viticulture, soil sciences, agronomy, clinical nutrition and agricultural economics. They work to pool their expertise to find solutions to major problems including meeting the challenge of ensuring global food security and providing Australia's agricultural, wine and food industries with innovative research-led developments.
Past Sponsors:
We are grateful to past sponsors whose support has allowed us to grow this program:
Department of Industry, Innovation, Climate Change, Science, Research and Tertiary Education (DIICCSRTE)
Department of Further Education, Employment, Science and Technology (DFEEST) (SA)
and past scientist sponsors:
Australian Bureau of Agricultural and Resource Economics and Sciences (ABARES) and the Council of Rural Research and Development Corporations
South Australian Museum and the Thyne Reid Foundation
School of Chemistry and Molecular Biosciences at the University of Queensland
Faculty of Science at the University of Adelaide.
Thanks to the UK I'm a Scientist, Get me out of here! team:
Event Producers: Shane McCracken, Rosie Schultz and the team at Gallomanor Communications Ltd
Web Build: Mike Little – Zed1.com
Design: Gareth Coxon – DotDesign
Theme: Andrew Beeken
and of course thanks to the lovely Wellcome Trust who fund the UK version of the event, and who have supplied all profile images courtesy of Wellcome Images. More images like these can be found at Wellcome Images
I'm a Scientist, Get Me Out of Here! in Australia is produced by Kristin Alford, Dee Halil & James Hutson of Bridge8.